The following was taken from the WinPlay3 help file:
Efficient coding techniques are today a must for the processing of audio and video data with computers. A lot of progress has been achieved in the recent years in this field. While there are several proprietary formats for audio coding the ISO/IEC standardization body has released an international standard recommended by the MPEG group (Moving Pictures Experts Group, ISO/IEC IS11172-3 and IS 13818-3).

Non-coded audio means data processed with 8 or 16 bit linear data words sampled with the sampling frequency (e.g. 44.1kHz for CDs). This means that you end up with 1.4Mbit for one second of music in CD quality. By using MPEG compression you can shrink down that data by a factor of 12 and still gain CD-like quality. Factors of up to 24 and more still allow for a quality significantly better than just reducing linearily the sampling frequency and the number of bits. This is realized by "perceptual coding" techniques taking into account the limited resolution of the human ear.

Until recently because of the workload of these algorithms add-on DSP-hardware was necessary to do the coding/decoding in realtime. Now, with MacPlay3 and WinPlay3, two products have been launched that handle real-time decoding on a standard CPU just by software!
Where do you get the WinPlay3 player?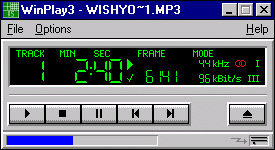 The WinPlay3 player is a 16-bit program that will run under Windows 3.11, Windows 95, or NT. It does however require at least a Pentium processor to play MP3 files in full stereo sound. It will however run on slower machines in a "down-mixed" mono mode. There is also a version for the Mac called MacPlay, also available from the WinPlay homepage.
---
The WinPlay Homepage: http://www.iis.fhg.de/departs/amm/layer3/
There is also a fully functional version here: ftp://cdrom.com/pub/win95/audio/mp3_play.zip
---
To produce your own MP3 compressed files, download the L3ENC.EXE encoder. Currently the only versions available are for DOS and LINUX. However I have had no problems running it from a DOS window in Windows 95. From my experience, using a Pentium 133 with 24 megs of RAM, it takes anywhere from 5-10 minutes to encode 1 minute of music. However, the makers of the enocder say there will be a real-time encoder available in the near future. Imagine that!
Get the encoder from the WinPlay homepage:
http://www.iis.fhg.de/departs/amm/layer3/
Get the HowTo Rip CD Audio Tracks Text file for detailed information:
The software download section, like I promised:
And last but not least: Links to sites with FULL songs available...
Member of the Internet Link Exchange

Ad management by LogicLink

---
You are visitor number

&nbspsince 6 January 1997
Click on the blue icon at the top for futher detailed information
---

rumph@dds.nl
rumph@freemail.nl

>

>


&nbsp

&nbsp

&nbsp

© 1997 Raymond Rumph &nbsp &nbsp &nbsp All Rights Reserved
Last updated 21/01/1997